WeePie Cookie Allow Plugin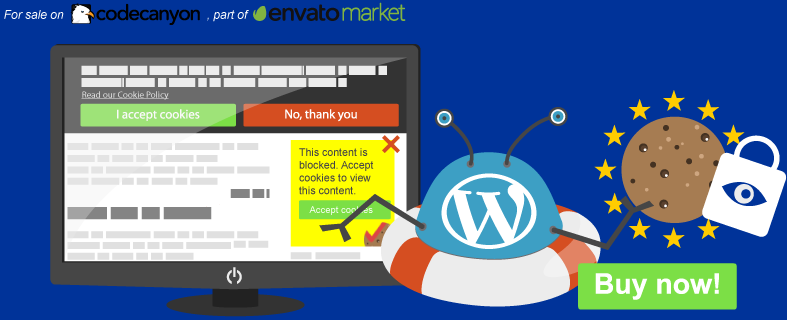 The First GDPR / AVG / CCPA proof Automatic Cookie Blocker Plugin for WordPress
Since 2015
This simple cookie consent WordPress Plugin with a lot of styling options makes it possible to easily and fully comply with any cookie law:
EU General Data Protection Regulation (GDPR)
EU cookie law
UK cookie law
Dutch cookie law + Algemene Verordening Gegevensbescherming (AVG)
Italian cookie law
German cookie law / German Data Protection Amendment Act (GDPAA)
California Consumer Privacy Act (CCPA)
Etc.!
So this plugin is more than a notification bar: it really can block cookies before consent.
GDPR / AVG / EU cookie law required?
YES! If you have an European website or a website directed to an European audience, a website visitor has to be informed about and give consent for placing certain privacy sensitive cookies on your website. Depending on what you are doing with these cookies, this consent may be implied or must be explicit.
Comply with the cookie law in just a few clicks!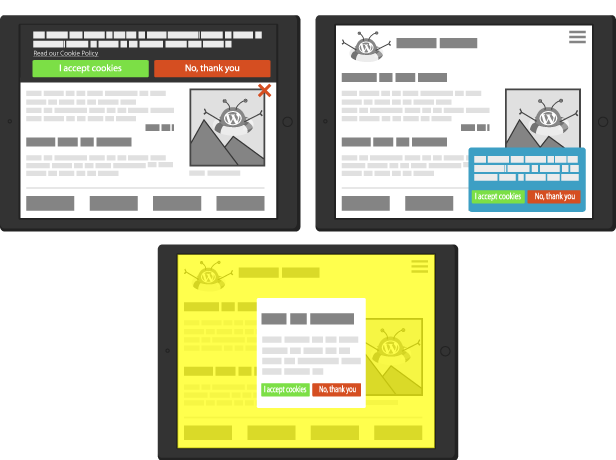 Select your consent method (with or without possibility to decline cookies)
Edit style elements (like colors, texts and sizes) to your needs
…and you're ready to comply with e.g. the GDPR concerning cookies on your website!
New features and improvements
CCPA(cookie) proof: Show a bar/box with Notice at Collection and opt out possibility for California website visitors
Cookie Category settings box switch buttons
Edit Cookie Category: label and description
Cookie Category settings icon to open a Cookie Category settings popup
Set all Cookie Categories default to off in the Cookie Category settings box
See the changelog for all our improvements/fixes
Features of the GDPR / AVG / CCPA Cookie Compliance Plugin

Easy to configure
Compose your consent settings, edit some elements like the texts and colors of the cookie bar/box to your needs and you're done!

Lots of styling options
Easily customize elements, like:
Choose between a bar or a box
Add a closing cross (X) to close the cookie notice / decline cookies

Select your cookie consent type
Choose between 'implied' (accept after click/scroll) and 'explicit' (accept after click the accept button) consent, with the following cookies before consent:
Necessary (functional)
Necessary and analytical
All
After consent all cookies will be placed
Or the possibility to decline cookies [NEW]

Clears cookies automatically
Fully automatic cookie blocking. Blocks 3rd party cookies automatically, like:
Social media cookies (e.g. Facebook and Twitter)
YouTube cookies
Advertisement cookies (e.g. Google AdSense)
Google Analytics cookies
Additional option to block all i-frames automatically

Link to your Cookie Policy page
Easily create a link to your Cookie Policy/Information page / post / custom post type / attachment (PDF) directly from the cookie bar.

Responsive design
Fits different devices like: pc, laptop, tablet and smartphone.

Multisite ready
Supports WordPress Multisite (WPMU).
IMPORTANT: You'll need 1 license for each unique domain name.

Officially WPML Multilingual compatible
Supports translation with the WPML Multilingual Plugin.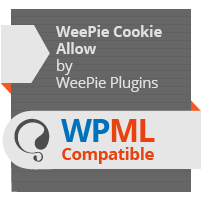 Placeholder for blocked cookie content
Possibility to show a placeholder at the place where the cookie content is blocked.

Reconsider cookie consent
Add a cookie reset button in your WordPress website (by a Shortcode). [NEW]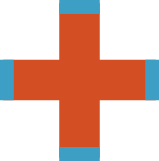 And more features!
Translatable admin texts (pot-file included)
Possibility to add custom CSS easily
Disable for logged in users
Minified JavaScripts
Based on our WeePie Framework